A snippet of the things we get up to at the club
---
From August until March time it's our wind down time, and gives us an opportunity to wind down after the summers events. During Autumn 2022 we've been busy with a few projects around the club, cleaning the place up, and the install of some new hardware.
The old canopy over the entrance to our main building has been replaced, as the old timber frame that'd been there since the early 1990's was really rotten and really beyond a repair job.
Work is slowly progressing with our 2.4M dish project also, we've not got the dish mounted to the base yet, but we hope to have that done soon.
We're in the process of reworking our VHF shack.
We've seen the arrival of the QFH and LEO Satellite antennas, and they're up and ready to be used.
---
June & July 2022
June & July are our busiest months of the year, and they've passed successfully. On the weekend of the 25&26th June we hosted our microwave round table, a nice social and a few demos of 122GHz experiments, and a few talks were kindly given.
On Sunday the 24th July we had our annual rally, which saw us have around 18 traders, and around 15/16 tables of club stock.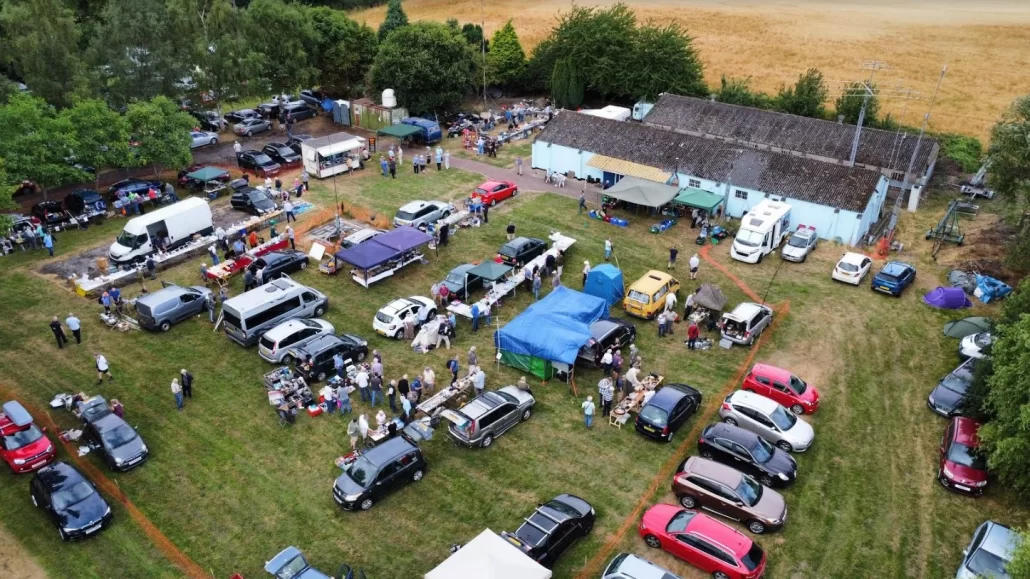 For both events we saw a good turn out of people who came to visit the club. The rally saw us have 230 visitors through the gate, if you were one of them, thanks for coming.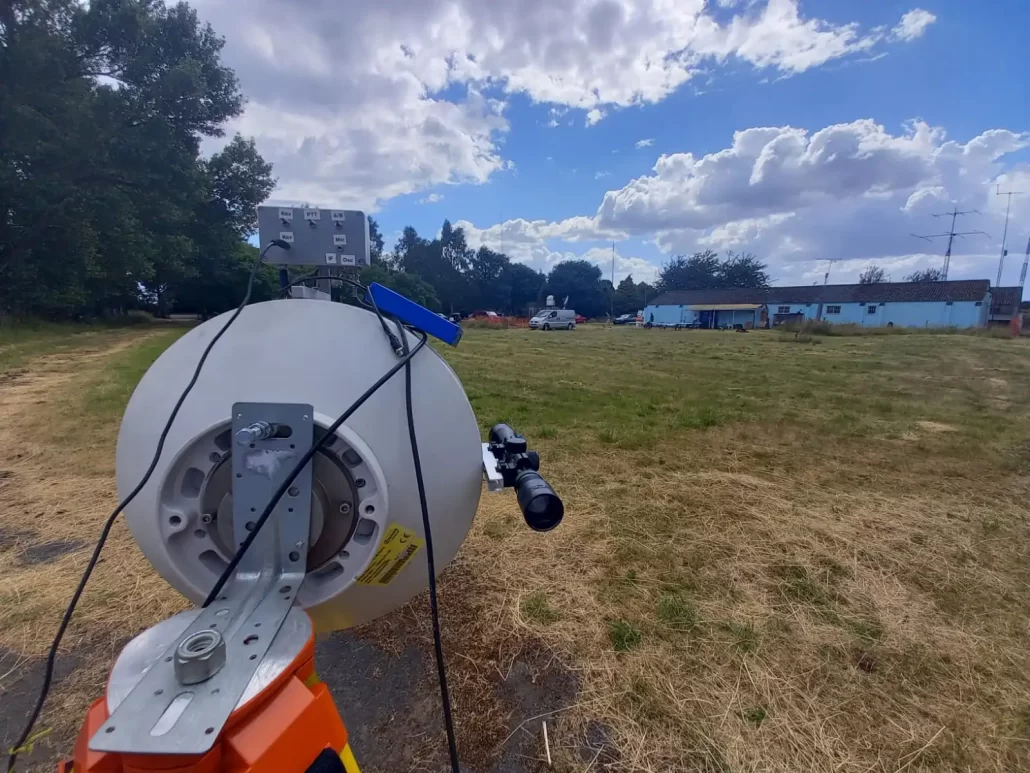 Between preparation for both events this summer we have been chipping away at some of our other projects around the club.
The Tree that fell in to our VHF tower was dealt with at the beginning of June, and we are now starting to look at fixing it, then a refit with new coax, and antennas for V/UHF, watch this space.
---
April 2022
With always something to do we're kept busy with the usual upkeep of the place, we've had to hire a few skips!
There's been work to the HF tower as we had a rotator issue, we got it swapped out with a spare whilst we get the Kenpro on the bench.
M0HOM ran the club station for the 2022 UK & Ireland Contest Club DX CW Contest, and scored ok, he was still erecting antennas to use whilst the contest had already started.
The plans for the summer events are well underway, June will see us host the Finningley Microwave Round Table, and in July we are hosting our Rally.

The ever changing things that we get up to have seen us look at some interesting bits of equipment, SDR's, working on home made amplifiers, 2 members brought 1 each, a Yaesu FT-736R for a NF test. Interesting to see the difference between two identical models of radio.
---
Febuary 2022 –
A few things this month, after the few weeks of very poor weather and 3 storms in one week, Storm Dudley, Eunice and Franklin, where 4 people sadly lost their lives by falling trees. We're pleased to report that there's been no damage to the members, buildings, and the majority of our antennas. Sadly we did loose our VHF tower. A Pine tree has rearranged our 144MHz + 432MHz Yagis, stub, and head unit. A 60′ Pine in 50/60MPH winds, in soft ground has eventually pushed it over, and it came to rest on top of our tower.
Here's a link to the Met Offices report on Dudley, Eunice, and Franklin.
https://www.metoffice.gov.uk/binaries/content/assets/metofficegovuk/pdf/weather/learn-about/uk-past-events/interesting/2022/2022_02_storms_dudley_eunice_franklin.pdf
In other news we've taken a liking to dabbling with a little astoronomy, visual for now, the radio astronomy will come later.
We had been loaned a motorised telescope mount, and Martin MØHOM took advantage of this, a dark sky one evening and with very modest photography equipment captured a pretty good image of Messier 42, more commonly known as the Orion Nebula.
---
November 2021 –
Nothing too exciting to report, we've been getting on with a few jobs around the place, and even found time to operate in the CQ WW DX SSB Contest, during the last full weekend of October.
We're pleased with how our little pistol station worked with over 600 contacts going in to the log book that weekend.
---
October 2021 –
We're slowly ticking off some boxes on the to-do list, but we'll now be against the length of daylight, temperature, and poor WX, so we'll see what we get done.
The main building has had a lick of paint all round now, and some well needed maintenance continues on our big shed.
A few members maybe taking part in the CQ WW SSB Contest, pending some last minute antenna work, so keep an ear out for G0GHK on the bands, we'll appreciate the calls and points.
---
July 2021 –
Coming out of lockdown and planning to hold our first event meant for a manic July for us. Preparation of the grounds, baling up the hay, painting of the building, and the installation of the G3WDL Memorial bench, all managed to get completed just in time!
For our Rally on the Sunday 25th, the weather held off for a successful morning for us all. The numbers were down this year, but hoping for a better 2022 event season!
---